Task Monitor give you a complete birds-eye-view of all your driver task monitoring across the entire employee base. The system sits in the background and silently monitors all of your driver risk, employees reminder dates, renewals and refresher timescales and prompts drivers and managers when actions are due.    It's important to adopt a system that can 'combine' all of these separate data sets into one central report for an accurate driver risk profile. The beauty of using the DrivingMonitor platform is that all your tasks & alerts are coming from the 'same' database so your risk assessments, DVLA licence data, training data, vehicle & accident data etc all plug into the central task engine.
Click to expand on each of the points below:
Why do I need reminders?
You could try to create a system yourself using diary alerts, reminders or calendar notes. Then you would need to chase up all employees about each individual task as it occurs throughout the year - year-in-year-out across the entire company. With Task Monitor you can relax and let the system do all of the hard work for you.
A few examples of reminders you would need to cover are:
Refresher risk assessments to ensure you're covering your duty-of-care as these need to be done at least annually
Reminders on driving licence photocard expiry dates
Alerts for Tax, Insurance and MOT renewals (don't forget tax can be monthly, bi-annually or annually)
Outstanding training reminders on upcoming or overdue training
Vehicle checks reminders (for commercial vehicle safety checks)
Reminders on vehicle service dates
Read more about reminder frequencies...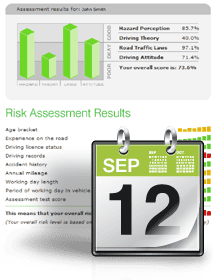 It's important to develop a strategy around how and when you remind employees and managers about tasks which are due. DrivingMonitor has a simple online solution to help you establish which employees do/don't drive as part of their work-related activities. Our simple 'online driver declaration' is utilised by tens of thousands of drivers every year. This gives you a fully auditable database of employees who do/don't drive which can be updated by the employee should their circumstances change.
The system then stores all renewal dates from when the employee starts their first risk assessment - and then everything runs in the background from that point onwards - simple.
Regular reminders with automatic frequencies
An example of a refresher policy based on risk levels:
Low risk drivers = assess every 18 months
Medium risk drivers = assess every year
High risk drivers = assess every 6 months
This means you are targeting the Medium/High risk drivers to manage their risk more pro-actively and reduce their risk levels at a quicker pace.
Should I use integrated reminders?
It's common for a company to attempt to create internal procedures to keep track of important dates such as insurance document renewals, or driving licences checks. What starts out as a small admin task can quickly turn into a whole range of dates to juggle for every employee throughout the whole year. You'll need to consider the whole driver risk management life-cycle.
Only by cross-referencing the data gathered by risk assessment with the DVLA checks with other driver risk factors can you fully cover the company duty-of-care obligations (HSE's guidelines) which are:
See why companies choose integrated reminders...
Dig a little deeper...
When researching suppliers for a driver risk management package - ensure you get a 'full' demo of the system and ask questions such as:
Does your system have built-in auto alerts which are configurable (task settings)
Is this system fully integrated into the DVLA service or do you use a 3rd party for other systems? (i.e. will my employee data be shared across multiple companies?)
Are you the main developers of this system or have you simply white-labelled a 3rd party supplier solution and if so who actually holds the data?
Does the reminder system alert across all areas of risk such as assessment data link with accident, licence, vehicle and training data?
Can I see management dashboards with real-time data?
Is this system flexible/extendable (i.e. are you in control of bespoke development/adaptations and can we grow with you?)
Can the system send email/SMS/dashboard alerts?

Driving is one of the greatest risks our staff encounter at work, and we needed a means of monitoring current standards, and competency, to determine immediate and future training needs. Driving Monitor is a product that gives us both.

Dave Nicholls, Company Safety Advisor - EDF Energy